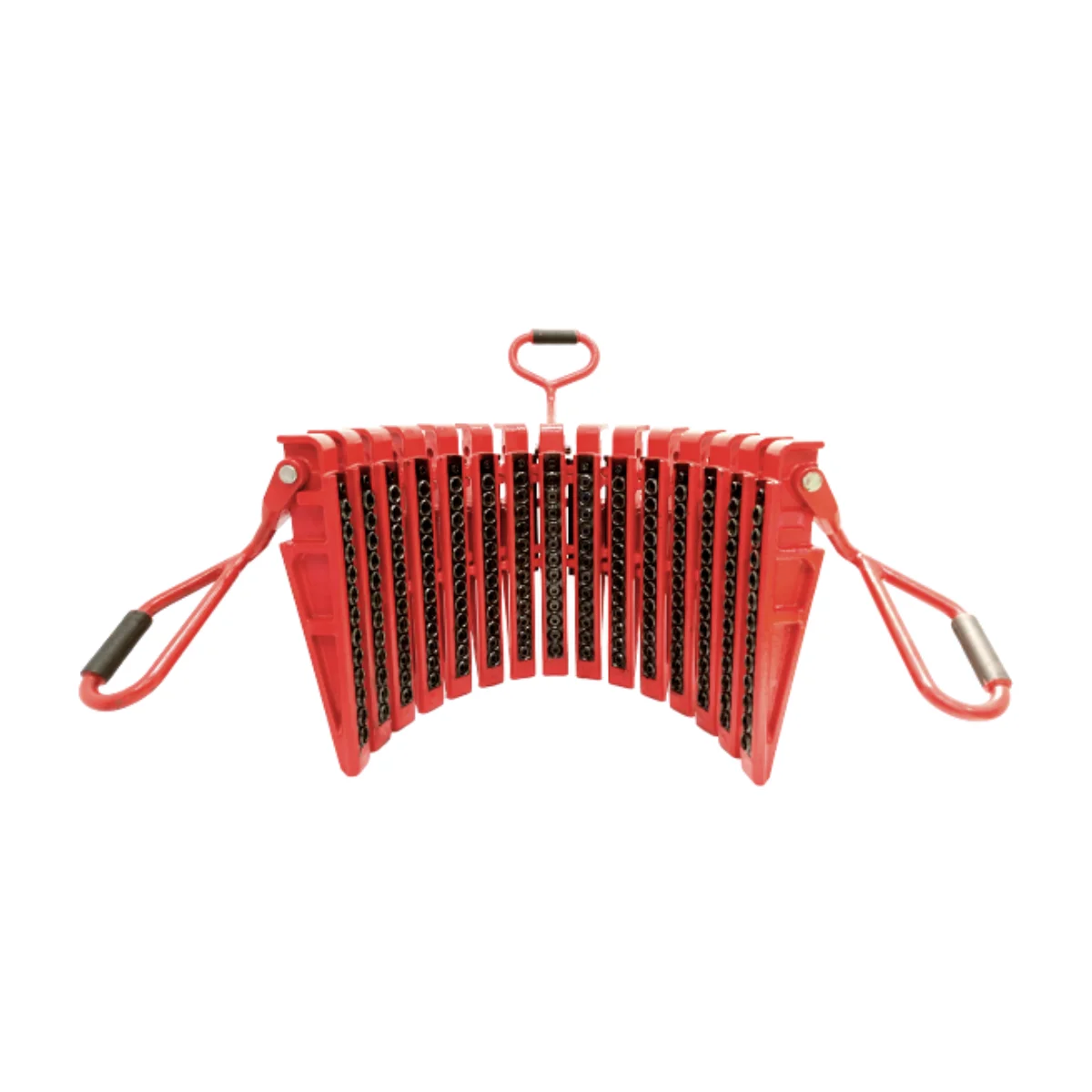 Casing Slips are versatile multi-segment slips designed for casing pipe operations. These slips are engineered to facilitate the self-centering of pipes within the rotary table, ensuring a secure grip without causing damage. The multi-segment design allows for easy adjustment to accommodate casing pipes ranging from 5 inches to 30 inches in outer diameter. This adaptability is achieved by selecting the appropriate number of slip segments and dressing the slip with the corresponding insert.
Our range of casing slips is extensive, covering pipe sizes from 5 inches up to 30 inches in diameter. Each casing slip is equipped with circular buttons and 3-4 flexible handles for efficient operation. These slips are manufactured in strict accordance with API-7K specifications and feature an API taper of 4 inches per foot on the diameter to ensure compatibility and reliability in drilling operations.
Our parent company has API-7K License for Rotary Slips for the past 23 years and continues to maintain it.
The Slips are made strictly in accordance with API-7K 6th Edition Specification, the slips are supplied duly marked with API-7K Monogram.
Spectrum's Casing Slip are equivalent to those manufactured by NOV.
Designed, Manufactured & Tested complying with the requirement API-7K specification. 
Casing Slips can be utilized in conjunction with Slip Bowls No. 1, 2, 3 and 16.
The slips are designed with a taper, following the API-7K specification, with a rate of 4 inches per foot on the diameter.
The segments are equipped with an extended back to provide ample strength and support to the inserts.
The circular buttons can be easily replaced at the rig site by removing the locking arrangements and retainers, making it a quick and convenient process.
Health, Safety and Environment
The products are manufactured in compliance with HSE (Health, Safety, and Environment) guidelines.
Easy Installation.
The products undergo a series of Non-Destructive Testing and Destructive Testing for quality control, ensuring the safety and reliability of the product at the rig site.
Excellent durability.
We provide the fastest delivery with a short lead time.

We maintain a substantial inventory of spares to ensure their availability with very short lead times, minimizing downtime on the rig. 
Description

Casing Size (OD in Inches)

P/N, Slip complete w/circular buttons

Weight Complete with Inserts
Description

Casing Size (OD in Inches)

P/N, Slip complete w/circular buttons

Weight Complete with Inserts
Description

Casing Size (OD in Inches)

P/N, Slip complete w/circular buttons

Weight Complete with Inserts
Part no. of Circular Button